Glenda Hannibal works in thedepartment of sociology as a junior assistant (Universitätsassistentin). Her research centers around the sense-making processes of human-robot encounter and the way in which 'everyday life' is constructed within the practice of social robotics. Contributing to the Semesterfrage"How are we living in tomorrow's digital world?" Glenda reflects upon how humans will experience interacting with digital technologies in a robot-supported society in the near future: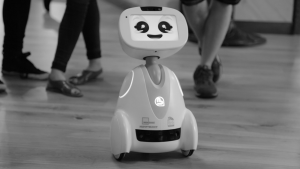 Today most of us have integrated all sorts of digital devices as part of our lives so far that it is hard to imagine life without smartphones, tablets and computers. All aspect of our lives have been transformed by their use, from entertainment, through work and socializing, even to love. As media they significantly shape our reality, but when it comes to social relationships they remain just that – tools that help us connect to others.
But could we imagine a future in which we do not use digital tools but rather interact with them as with independent beings? Where we do not use the computer to socialize with friends, but socialize with the computer? In such future interfaces would become faces. This future is already becoming a reality and it is best seen in recent developments in social robotics. While social media help mediate already existing relationships, robots may soon become beings with whom we will develop completely new kinds of relationships, eventually changing the landscape of social reality.